We hope this finds everyone doing well, settling comfortably into the month of December, taking some deep breaths during this busy time of year.  We've officially wrapped up our touring for 2018, and are looking forward to a bit of rest from the road.  The end of November saw us up in Iqaluit (what an experience), and then back home to Winnipeg for two under-the-radar house concerts (both sold out!).  Our final show was this past weekend where we joined some hometown pals in a Christmas tribute concert to the great Stan Rogers. It's been a terrific couple of months and ending the year with these fantastic shows has been such an amazing treat. Thanks to everyone who came out and supported live local music in their communities. We are so grateful for your love and support on our journey. 
As we take some time to be with our friends and family this holiday season we look back on a fantastic year of shows and events. From Australia to Iqaluit we have been performing to amazing audiences and communities with great success. Below are a few photos from our 6 week Canadian Winter/Australian summer tour through Queensland, Tasmania, and New South Wales with our good pal, Claire Anne Taylor. We were on The Festival of Small Halls Australia tour, with stops at The Woodford Folk Festival, Cygnet Folk Festival and Illawarra Folk Festival. The last photo is JD posing with just some of the trophies we found on the road and decided to give them away to lucky audience members. People were over the moon when they found out they were receiving a trophy. Audiences danced, dressed up, made speeches, brought their pets and their kids.  Check out the photo with Cara posing with one of our youngest trophy winners! Our time traveling through Australia was incredible.  People were generous and kind, and the sights and sounds of the country will stay in our hearts and minds forever.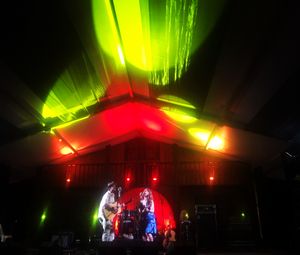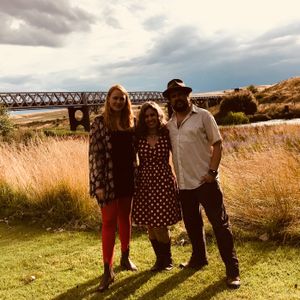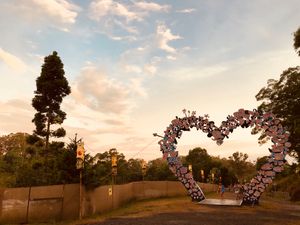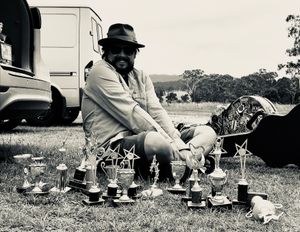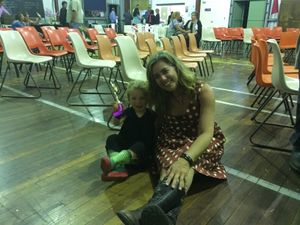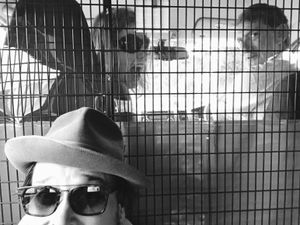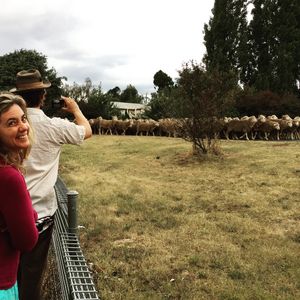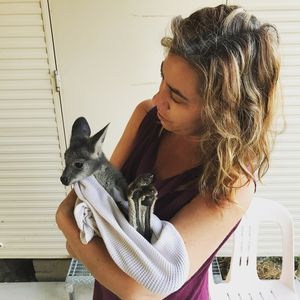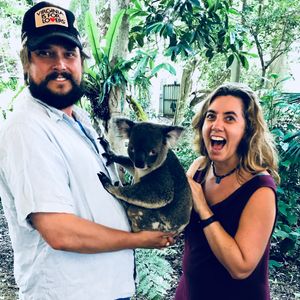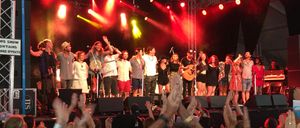 After a quick stop in Victoria, BC for Starfields: A Festival of Hope and then a jaunt across the country to the ECMA's in Halifax, NS we travelled across the Atlantic to tour through the Netherlands, Germany, England and Ireland. We made a bunch of new friends and fans as we drove on both sides of the road through mountains, low lands, coastal zones, cities and villages alike. We performed on the banks of the canal in Eindhoven, Netherlands, then near the banks of the Rhein in Saitenklange, Monheim am Rhein, and in the countryside near Elmshorn, where we made friends with the presenter Lotte, a local folk hero who introduced his to best stuffed friends (Billy and Molly) to Cara's driving partner, Curry the Monkey.  We took the ferry to Pellworm Island to perform for the community there and saw seals along the way (they are the dots on the beach shown below).
After our mainland Europe shows we jumped the English Channel to perform nine more in the UK. We touched down in Durham, Sheffield, Birmingham, Leeds, London, Bradford on Avon and made an incredible stop to Square & Compass in Worth Matravers where the fog rolled in and took our view of the ocean away but brought an incredible audience who danced and sang with us for the whole evening. Our sold out show at the Green Note in London was also a highlight for us. We had old friends and new fans joining us on sing-along after sing-along. It was a fantastic night of music, stories and fun. 
Finally, after twelve days in the UK we hopped another ferry across the Irish Sea and toured Ireland for the first time as a duo. We played Wexford, Cork, Kilkenny, Galway and just outside of Roscrea we performed in Leap Castle, the most haunted castle in Europe. We heard ghost stories and even heard some creaks in the floors as we sang. A fabulous dinner was served afterwards in the great hall with our hosts and friends from around the country. It was an amazing way to finish the tour. Below are some of the pictures of places we had visited.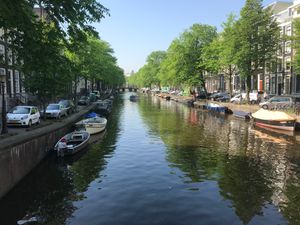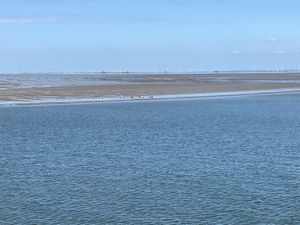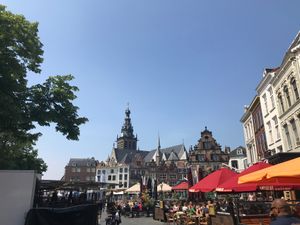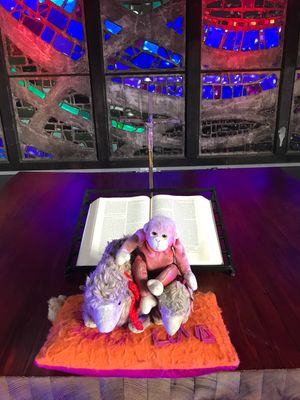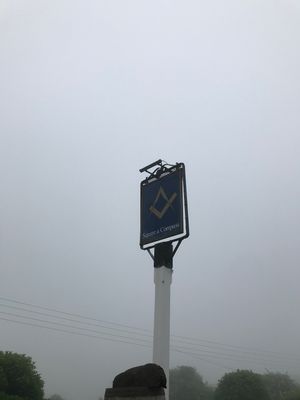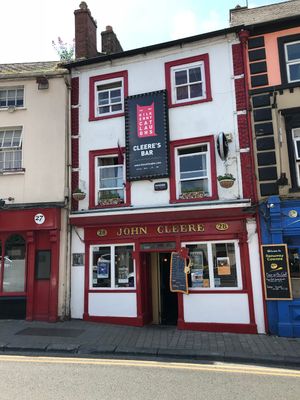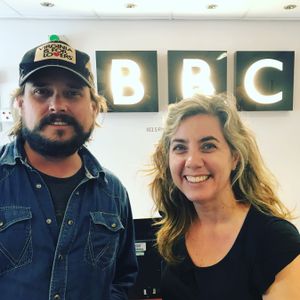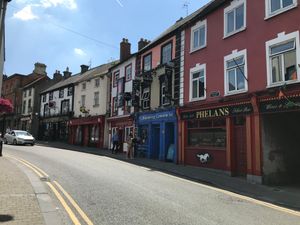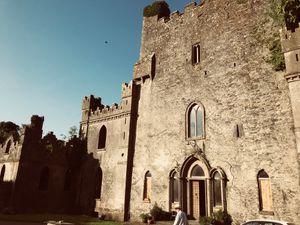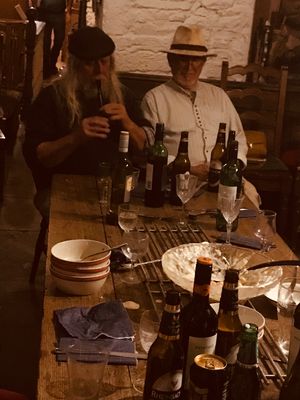 After the winter and spring tours, TSG was heading into summer festival season in Canada. We went Coast to Coast, hitting the Sooke River Bluegrass Music Festival, Vancouver Folk Festival, Mission Folk Festival, and the Calgary Folk Festival on the West, then over the prairies and Great Lakes to the East Coast for the Lunenburg Folk Festival. We met and hung out with some amazing artists like John Gorka and Eliza Gilkyson. Then we dipped South into the U.S.A. to perform at the legendary Philadelphia Folk Festival. It was our first time at this epic festival and we were glad to share the stage with our Canadian pals David Myles and William Prince. 
After the summer heat left the land up North, we travelled back to the States to officially showcase at the AMA's (Americana Music Association/Awards Conference/Festival) and eat piles of BBQ as we tried to connect with new industry folk and artists. It was short trip but we made friends with a lovely record label down there called Compass Records who are bringing us into the fold and family to help us release our next album. Fingers crossed all goes well!
As the leaves were falling, TSG loaded up the van and headed back to the East Coast for a tour through Ontario, Quebec and The Maritimes. We kicked things off at Hugh's Room in Toronto, then performed on the most southern part of Canada just outside of Point Pelee, Ontario. We double backed through Ottawa, Kingston and Montreal, battling some Thanksgiving Holiday traffic and unseasonably warm temperatures. We made our way back to Charlottetown (where the duo wrote a few of their hits on the next record, as well as Summerside, PEI.  We headed to a lovely rural community theatre in NS, then headed to New Brunswick to play our final 3 shows out East, including a stop at Canada's prettiest theatre, the Imperial Theatre in Saint John.  After a short rest we busted back to the West Coast via Saskatoon, Edmonton, Calgary, Canmore, Revelstoke and Kaslo. We hit up Halcyon Hot Springs in the Kootenay Mountains during a rather treacherous winter drive, played a sold out show in Kaslo, checked on Cara's tiny purple house, drove the Hope-Princeton through Manning Park, coming out clean on the other side in time to play the Rogue Folk Club in Vancouver.  Full house that night!  It was awesome!  Hopped one more ferry to perform in the great city of Victoria, BC and wrapped up in Langley BC at Bez Arts Hub with our dear friends Russ and Sandy Rosen.  Some scary drives but we buckled down and made it through safe and sound and happy. 
This year has been a fantastic one for The Small Glories. We performed on some new stages and made repeat visits to a few of our favourite stages in the country and beyond. We can't wait for what the new years holds for the duo, including a new record, new tours, new merch and so much more. 
We want to thank you from the bottom of our hearts for your support and love throughout the year, for coming out to shows, laughing at our stories, singing along, and sticking around after concerts to give us hugs.  We can't wait to sing the new songs for you!  Please keep your ears to the ground and your eyes glued to the TSG website for all the latest news and music. Much love to you and yours this holiday season, and have a very Happy New Year! 
All our love,
Cara & JD
The Small Glories